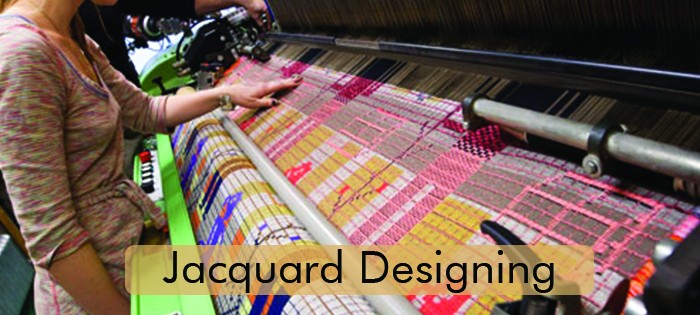 What is Jacquard Designing?
Most people may not be aware that the term Jacquard is actually the name of a person. Yes, Joseph Marie Jacquard was a Frenchman, who was a skilled weaver and textile merchant. He played a major role in the creation of the Jacquard Loom, which set the trend for creating intricate designs that are so popular today, and are known as Jacquard designs. The ace designer is credited with the invention of the process known as shedding, which is an important aspect in Jacquard Designing today as it helps in producing limitless varieties of pattern weaving, and the production can be automated as well.
In the methods adopted in olden days, figured designs were created on the draw loom, where the warp and heddles were manipulated manually, often using a second operator, usually called a draw boy.  This process was very laborious and tedious and there were not many designs that could be created due to restrictions. Joseph realized that weaving was a repetitive process, and could be mechanized without affecting the creation of sophisticated patterns – thus was born the new technology known a Jacquard Designing, which is now taught as a specialized Jacquard Designing course in Coimbatore.
Although there are a few institutes imparting such specialized courses in India, Banaras offers Textile Designing courses in Coimbatore that are unique, thanks to the foresight of the founder K J Mahesh Kumar, a visionary and designer par excellence. The sophisticated electronic Jacquard looms of today are a far cry from the mechanical Jacquard looms of yesteryears. The very first mechanical loom was manufactured by the Bonas Machine Company Limited in Milan in 1983. These small machines had limited production capacity, and the fabric design used to be stored in punched cards and only a few warp ends could be controlled.
Later on electronic Jacquard Looms were introduced and the modern technology helped increase the production to 10,000 warp ends from a single end warp control. This process offered limitless versatility and did away with repetitive designs. These machines were computer-controlled and helped in reducing the down time in changing the punched paper designs considerably and facilitated the production of smaller batches for each design without much loss of time. The designers and operators working on these machines were given specialized training, like the courses offered by the textile designing training institute in Coimbatore, under the aegis of Banaras, which is managed and run by K J Mahesh Kumar.
As far as India is concerned, the technology behind Jacquard Designing has been well adapted to suit local conditions. So much so, there are now specialized saree designing courses  in Coimbatore that are offered for students who wish to make themselves a career in textile designing.  This is among the several other fashion designing courses in Coimbatore that impart advanced knowledge in the latest aspects in fashion designing, preparing the students for a rewarding career in their chosen fields. Many are not aware that the courses offered by Banaras, a leading textile design training institute in Coimbatore are the best for people looking for a bright career in textile and fashion designing in India and abroad.