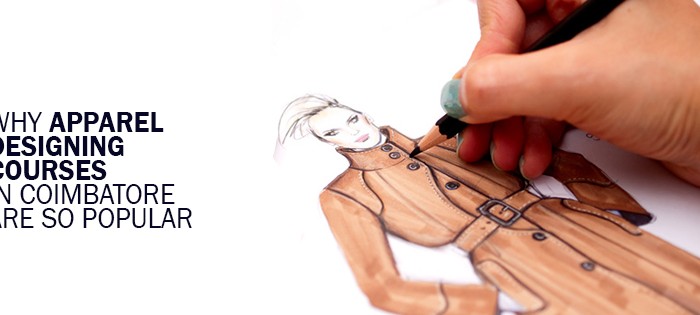 Apparel Designing Courses in Coimbatore and their craze
It is an amazing fact to know that cotton was cultivated around 7,852 hectares in 2010 at Coimbatore alone. The tropical climate of the city, Coimbatore makes it favourable for the cultivation of cotton throughout the year.
Stating that nearly 90% of cotton needs from India being met by Tiruppur, will the neighbour kin-Coimbatore be any short of surplus textile resources? No way, isn't it!! With these many opportunities to deploy, backed by thousands of young minds, what can the city do?
The city throws up its hat in to ring of the exclusive designers of the country to answer the question. The young apparel designers of the "Manchester of South India" are passionate about continuing the legacy of apparel designing from the country's exclusive design hub. With plethora of career opportunities in the city, there is nothing to think about joining apparel designing courses in Coimbatore.
Adding to the curiosity of the prodigies there, it is the availability of apparel designing courses in Coimbatore that makes it more popular. With almost all educational giants offering textile designing courses, apparel designing courses in Coimbatore, the city guys have coped up well with the idea what is considered to be their conventional livelihood, and more aptly their tradition.
The courses offered for apparel designing courses in Coimbatore are numerous. However, here in this article we lowdown the most sought after apparel designing courses in Coimbatore.
Jacquard Designing
With the tradition of jacquard designing ion sarees, the concept has got a firm hold among the youngsters with the aid of tools like CAD. Though there are only a very few institutes providing the course, the passion for this industry seems to be higher among the students.
Sewing techniques
Here in this course, the student are taught to operate sewing machines and their stitching patterns. Moreover, they are fed with making a firm and a professional stitch for a cloth.
Dress Designing
Dress Designing is as it sounds, a more general and an overview about designing your apparels through various techniques. The students are taught various designing techniques like couching, embroidery, pleating, and create original and marketable dresses.
Tailoring
Tailoring does sound like a simple job, but it's an art to deal with the exact shape of the model. The course includes various nuances like creating buttonholes, adding pockets designing collars and pressing the finished product.
Pattern Making
In this particular apparel designing course, basics of pattern design, drafting tools are taught. With the advent of computer aided designing tools, the students can have their insights about their design before they actually do.
These courses mentioned above are only one among the thousands of apparel designing courses in Coimbatore. There are numerous other courses yet making apparel designing courses in Coimbatore so popular.