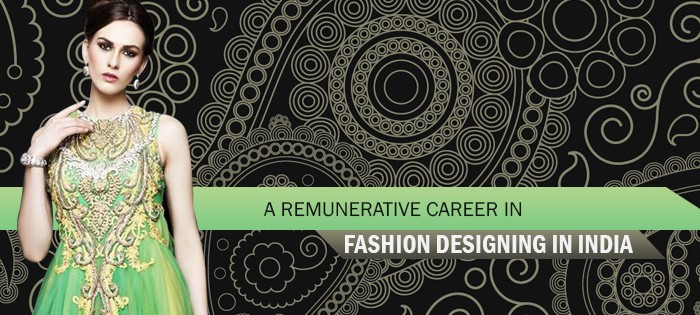 A Remunerative Career in Fashion Designing in India
Today's youngsters know that choosing a career in fashion designing can be a very exciting prospect as it is one of the most glamorous professions one can get into. Fashion designing as a career option holds exciting possibilities for young men and women who wish to make a successful career for themselves in creative designing in garment designing, textile designing, jacquard designing, fabric designing, fabric dyeing , apparel designing and much more.
Why should a person opt for a career in fashion designing? One good reason is that fashion designing in India is recognized as a course with excellent growth prospects. Moreover, a fashion designer gets to meet the rich and famous, and may be entrusted with the envious task of creating the wardrobe of a celebrity model or actor/actress. The growth rate in this industry is a healthy 25% and is set to only grow in the coming years. The survey conducted by the Fashion Design Council of India indicates that designer wear in India is set to evolve as an important growth sector in the industry.
One needs to have a flair and interest in designing in order to pursue a career in fashion designing, In addition to natural skills; the person will have to acquire some advanced skills in order to become a successful designer. A natural sense of colour-coding and basic artistic bent of mind is essential.  A basic degree in Arts or Science from any recognized college or university is quite welcome. Additionally, a diploma or degree from any apparel design institute in Coimbatore, which is a textile hub will be a great advantage. One can also explore the possibility of enrolling for a course in any textile design institute in Coimbatore, which has the maximum number of textile mills in the southern part of the country.
Admissions to any of these institutes, including diplomas in fashion designing course in Coimbatore is purely on merit basis. One has to undergo a written and aptitude test, and participate in group discussions and learn the art of presentation as well. Each course varies in duration between short-term 1 year courses and comprehensive 3-year courses. Upon completing the course one can opt for a career as a Fashion Designer, where the primary tasks would be sketching original designs and creating new designs, or as a Fashion coordinator where the job entails checking the finished fabric to ensure the correct shade of colour is maintained, and the quality is maintained. One can also aspire to become a Fashion Consultant, where it is essential to keep updated with the current trends in the fashion industry and be actively in developing new products.